Top 5 adventurous cycling places in dubai
Dubai might not seem the ideal destination for cycling holidays, but contrary to widely held beliefs, this desert city has much to offer in terms of fitness. Dubai has something for everyone, whether you want recreational cycling trails or competitive training pathways.
The advantages of cycling in Dubai are not limited to being physically strong and healthy; it is also a lot of fun to discover a new place in the city with a group of like-minded people. Cycling has always been the perfect way for Dubai residents to learn about the ever-changing city, from converted camel tracks to safe-cycling autodromes.
Best places in Dubai for Cycling
Alqudra Cycling Track
Couldn't find the perfect cycling path? No need to worry, Al Qudra is not just a popular yet safe cycling place in Dubai; it also offers two paved roads deep in the desert dunes that are sure to meet your riding and exercise goals. This is not just any ordinary route; it is a must-do for every cyclist who loves cycling outdoors while admiring the stunning vistas of Al Qudra Lake. Cyclists can select between an 18-kilometer or a 50-kilometer path that goes up to the Bab Al Shams Resort, where they can refresh themselves


Nad al sheba cycle park
The Nad Al Sheba cycling route is found near the Meydan Racecourse and is regarded as one of the top cycling spots in Dubai. You must include this while compiling a list of cycling destinations in Dubai. Originally known as the camel track, it has been transformed into a completely amazing cycling route that is designed to meet your cycling desires and consists of a bicycle train with loops that are 4, 6, and 8 kilometers long.
In addition, a separate cycling route is supplied so that your kids may have an enjoyable time there.
There's something even more impressive and attractive about this destination; it has incredible lighting all around the course, along with markings, street signs, and speed bumps, making it one of the safest yet most professional cycling routes in Dubai.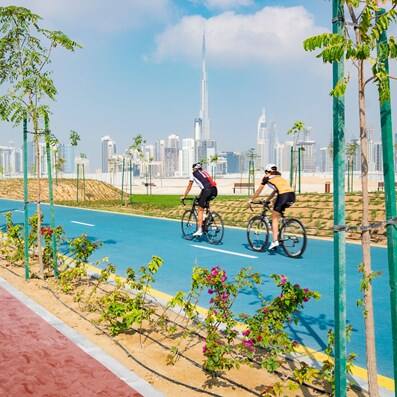 Al warqa'a jogging and cycling track
When it comes to your cycling and fitness you can't miss out on the other popular yet best cycling route in Dubai, located at Al Warqa'a Third Park. It is a destination that you should not miss once you have visited it.
This is not your usual cycling park; it has modern amenities and facilities for you, your family, and your children, including a playground, a large football field, and luscious landscaping.
At this cycling route, the bikers can enjoy the free flowing 3.5 km long cycle track that doesn't involve any oncoming traffic and other tackles which may give rise to uncertain instances


Dubai autodrome
This location is your one-stop solution whether you ride a bike on the weekends or year-round. Jokes aside Although it's a fantastic location for sports car racing, cycling riders may also enjoy themselves here.
You may be wondering when you can enjoy biking at this beautiful destination. Every Wednesday, this cycling Park opens the doors for bikers to show their biking skills within the track of the 2.5 km circuit.
Additionally, Dubai Autodrome is one of the best places for beginners to go cycling in Dubai or for those coming back to the sport after a long absence.


Jumeirah cycling track
The Jumeirah Beach Cycle Path must be considered if you're looking for a quicker and better cycling route in Dubai. This gives you a vast experience in a short route and you won't be disappointed having enjoyed its environment and feel of nature. You may enjoy the stunning Burj Al Arab while cycling against the fresh ocean breeze along a 2-kilometre trail that runs along the sandy shore here.


Know the rules
Cycling is prohibited in Metro stations and on pedestrian bridges in Dubai, according to cycling regulations. If you want to ride your bike across bridges, you'll have to push it and fold it to transport it. cyclists under the age of 12 are not permitted to ride on the highways unless they are accompanied by an adult. They must wear safety helmets and gear that is reflective
When biking, double headsets should not be worn."
Each group is limited to a maximum of 20 persons.
By
ZAD
on
26 Oct 2022
0
Categories: Blog